Cycle from Canterbury to Whitstable
Half Day
For adventurers and cycling enthusiasts, a half day excursion from Canterbury to Whitstable by bike offers an invigorating way to explore this historic and famous slice of Kent. Named after the pioneering railway line which opened between Canterbury and Whitstable in 1830, the Crab & Winkle Way offers a scenic ride through rolling countryside and ancient woodland. Arriving in the seaside market town of Whitstable, visitors can sample the local seafood, for which the railway was nicknamed, and enjoy the eclectic mix of seafaring traditions, fishermen's huts, boutique galleries and independent local delicatessens.
Crab & Winkle Way, Canterbury - Whitstable
Travel from Dover Terminal: Approximately 30 minutes, 20 miles to Canterbury
Coach Parking: Drop-off point outside Canterbury West Station or St George's Lane. Coach parking nearby at Canterbury Coach Park, Kingsmead Road. Up to 12 hours: £15.
Bike hire: Biketart, 21 The Borough or Kent Cycle Hire, 714 St Dunstan's Street
Allow: 1 hour
The Crab & Winkle Line is celebrated for being the first regular steam passenger line in the world, closing in 1953. Following national cycle route 1, this 7-mile, mostly traffic-free route traces much of the original railway line. Starting in Canterbury, a historic and vibrant city boasting the world-famous Cathedral, charming medieval streets and fine restaurants, visitors can pick up the well sign-posted route at Canterbury West Station. The hill climbs are rewarded by stunning views, and the pretty 13th century church at Blean and Winding Pond in Clowes Wood make ideal rest stops. The sea air welcomes cyclists into Whitstable with its thriving art scene and maritime heritage.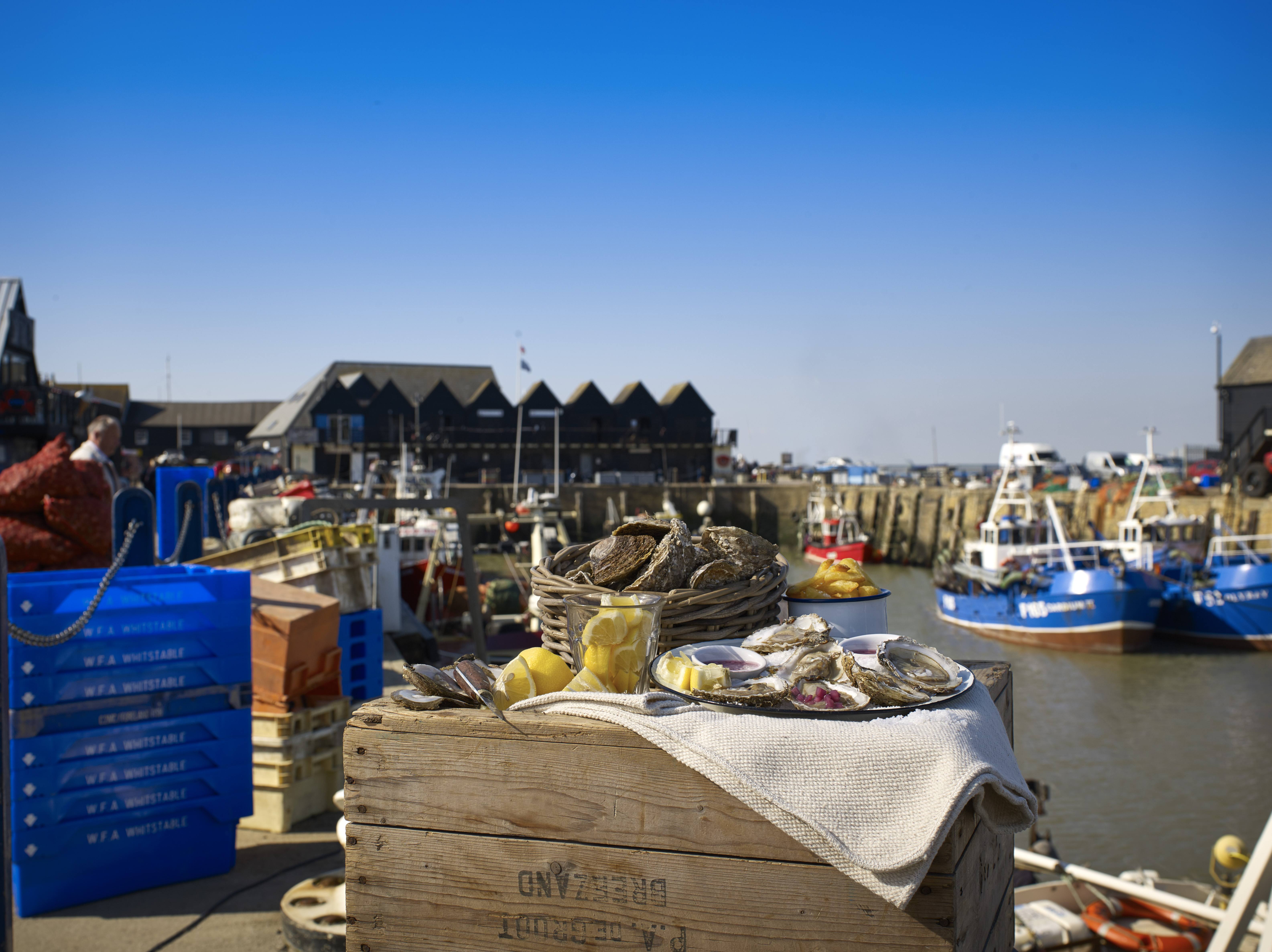 Whitstable
Travel from Canterbury: Approximately 20 minutes, 7 miles
Coach Parking: Tankerton Road Car Park (3 spaces). Up to 24 hours: £3.00
Allow: 3 hours
Independent craft shops and galleries dominate the characterful town centre of Whitstable, whilst the traditional working harbour, fresh fish market and seafood restaurants exemplify what this delightful town is famous for – oysters, celebrated every July at the Oyster Festival. For a pinch of history, head up to Whitstable Castle and Gardens, or navigate the many alleyways synonymous with smugglers in the late 1700s, Squeeze Gut Alley being a favourite. A short stroll or ride along the seafront leads past rows of colourful beach huts to Tankerton. Climb the slopes for dramatic views across the bay to WWII sea forts, the offshore wind farm, Isle of Sheppey and Southend, providing a stunning backdrop to beautiful sunsets.
Why not combine with historic Canterbury for a full-day itinerary in the Garden of England?