Welcoming visitors since 2007
BOOK A GREETER FOR A FREE WELCOME  
Please book at least 2 days in advance
Kent Greeters are enthusiastic volunteers, passionate about the place where they live. They provide a free warm welcome to individuals or groups of up to 6 people travelling together and can add huge value to your visit by sharing their local knowledge of Kent's highlights, hidden gems and heritage.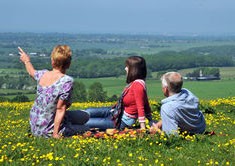 Where Shall We Meet You? A Greet can range from a walk in an ancient city, town or village, to cycling or rambling through our beautiful countryside or along part of our 350 miles of coastline.
How Long Is a Greet? Just over one hour. Although, by prior arrangement with your Greeter, it may be shorter or longer according to your timescale and your volunteer Greeter's availability.
How are Greets different to Guided tours? Our Greeters are not trained guides, they give a personal unscripted view of their home town as would a friend. A Greeter is flexible and able to change the course of the walk as Visitors' interests dictate. We have a very knowledgable team of Greeters on a variety of subjects. If you have a special requirement or interest please let us know when booking as we may be able to find a greeter with similar interests and abilities. Greets are usually in English although a few Greeters can greet in other languages: ask at the booking stage. 
Will they take us into museums and attractions?  No Greeters may not take their group into museums and attractions,  because many of these places have their own trained guides. However, they will be able to talk about these places and suggest which may be of interest to their visitors. They can also help visitors with the best way to travel about the area and suggest the places to visit in other parts of the County of Kent.
After your Greet we would love to hear how it went for you. You can rate us or leave a report on Kent Greeters UK Facebook page. If you would like to share images of you with your Greeter either post them on Facebook or attach them to your message and we will post them for you. Please send to: kentgreetersuk@gmail.com

 Inspired by Lynn Brookes and Big Apple Greeters, Kent Greeters UK are supported by Visit Kent and Members of the Global Greeters Network