Church of St Mary the Virgin, Fordwich
This 900 year old unique church stands in an idyllic location near the River Stour, it leans over somewhat, as a result of 15th-century floods. From the outside, you can see the many years of dedicated craftsmanship that has gone into building this lovely shingle church. 
Inside, the church is cultured and unspoilt, 17th-century fittings and wall paintings adorn the small interior. There is also the strange 'Fordwich Stone' that dates back to 1100. Nearly 1.7 metres long this stone is thought to be a shrine made for body parts - or relics - of a saint. Maybe St Augustine of Canterbury? 
Earlier features include a 12th century font made of Bethersden and fine 14th century glass. 
There is a gravel path leading up to St Mary's, the floor inside is uneven but flat. The church can also be dark due to it's location. 
Donations welcome.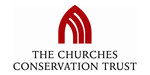 1 / 3
Guide Dogs, Hearing Dogs and Registered Assistance Dogs welcome
Address
The Drove, Fordwich
Canterbury
CT2 0DE