Go Ape is the UK's number one Tree Top Adventure. Days out at Go Ape are about living life more adventurously, having fun with your pri-mates and getting in touch with your inner Tarzan (he's in there, we promise).
Challenge Course
Go Ape Leeds Castle is an unforgettable day out, and a great laugh – which is usually the best way of bringing people together. You'll be briefed for safety before you take to the training site to practice what you've learned. Once you're familiar with the safety procedures, you'll be released into the trees to speed down zip wires, tackle rope bridges, Tarzan Swings and multiple crossings; all set up to 40ft above the forest floor. You'll be in charge of your own safety systems during the adventure, so it's only available for those over 10 years old and over 1.4m tall.
The experience lasts for 2 - 3 hours and is a fun challenge for everyone who takes part. The most popular part of the course, as recommended by customers, is zip wiring over the valley where you can spot the historic Leeds Castle in the distance. Why not make a day of it while you're at the park, by visiting Leeds Castle itself, tackling the tricky hedge maze on site, or having a go on the Segway experiences nearby the castle?
Go Ape Challenge course requirements
Minimum Age - 10yrs
Minimum Height - 1.4m (4ft7")
Maximum weight - 20.5 stones (130kg)
Prices
Challenge Course (10-15 year olds*) - £25
Challenge course (Over 16's) - £33
*Under 16s must be accompanied by a participating adult. One adult can supervise two baboons (children aged 10-15). 16-17 year olds can be unsupervised up in the trees, but cannot supervise others. 
Adventure+
Brand new to Leeds Castle for February Half term take on Treetop Adventure+. A tree high experience with challenging obstacles, higher platforms and longer zip
Min height: 1.2m
Min age: 6 years
Price: £24pp
Duration: 1 hour.
Adventure Course
If you're looking for something that's suitable for the family, then visit the Adventure course which sits alongside the Challenge course. It's a Go Ape course designed just for mini-explorers as little as 1m. No one loves adventure more than kids! Adventure course is aimed at Tiny Tarzans aged between 6 and 12 years old, although it is accessible for anyone over 1m tall (if they're feeling adventurous enough). 
Minimum Age – N/A
Minimum Height - 1m (3ft3")
Maximum weight - 20.5 stones (130kg)
Prices
Adventure course - £19
*Under 6's must be accompanied by a participating adult. We recommend a 1:1 supervision ratio during a child's first visit. Over 6's can be supervised from the forest floor at a ratio of 1:8.
Take a peek at what the Adventure course is all about and find out why kids are 'going ape' over the latest adventures.
Watch our short video...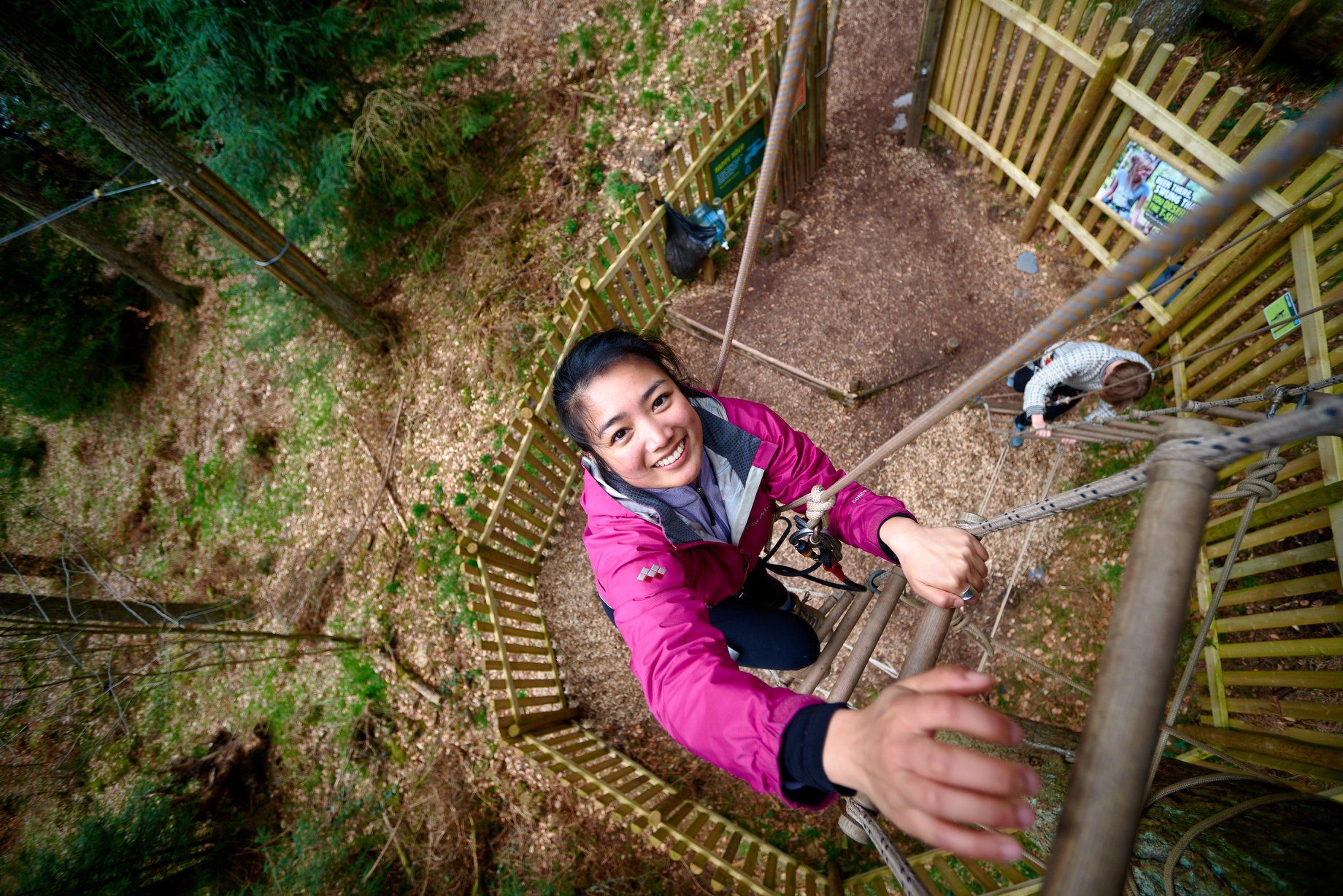 Address
Leeds Castle
Maidstone
ME17 1PL
Entry Price
Adults: Gorillas: (16 years +) £33
Children: Baboons (10-15 years) £25; Mini Tarzans: £18