Anybody old enough to remember the Dukes of Hazard will be familiar with Kentucky Moonshine. Essentially, it is unaged whisky, an acquired taste I'm sure (I've never drunk it) and in many cases, especially where those Good 'Ol Boys were concerned, completely illegal. Over the channel the Beaujolais Nouveau festival celebrates the wine produced from that year's harvest, young and fresh it's a drink that celebrates the season. In Japan they have a Sake that's unaged and fresh tasting, Namazake. As for the White Cachaça from Brazil, don't even get me started. You're probably wondering what all that waffle has got to do with Kent? Not a lot really to be honest. The county, as we all know is famous for its hops, and what do hops make…….?
Prizes.
No, beer of course.
Beer is best served fresh, it isn't aged like wine, whisky or good Sake. If it sits around in wooden barrels for too long it eventually goes off. Mid-August into early September is hop picking time, which means for a very limited period there are fresh green hops available to the brewers across the county; and that my friends means we get green hop beer to enjoy. The fresh flavour of green hop beer comes from the fact that the hops go into the brewing process within 12 hours of being picked rather than heading to the kilns to be dried.
To celebrate this extremely special time of the year there are events taking place in pubs, breweries, towns and attractions across Kent. Don't assume that these events are only for men of a certain age, possibly with a healthy amount of facial hair, maybe wearing a sandal and only happy to drink something with twigs floating on the top. Kent's Green Hop festivals are a celebration of heritage, industry, community and creativity.
The snappily named Kent Green Hop Beer Fortnight runs from Friday 21st September until Sunday 7th October. Events being held through that period provide visitors with the opportunity to learn about and taste Green Hop beers from 30 of Kent's breweries.
The official launch of the festival will be at the Canterbury Food and Drink Festival which takes place from the 21st to 23rd September at the Dane John Gardens in the heart of the city. This free event features an impressive selection of local food and drink suppliers, with a marquee dedicated to Kent's Brewers and featuring a selection of green hop beers.  
The following weekend, the Green Hop Beer Fortnight moves the festivities to Broadstairs. Between the 28th and 30th September the Broadstairs Food and Drink Festival takes over the Victoria Gardens and seafront promenade. With over 100 stalls, a chefs' theatre and activities for the kids this is definitely one for the whole family. As in Canterbury many of the local breweries will be there providing opportunities to sample both their green hop and regular brews. Just to keep things balanced Kent's flourishing drink industry will be represented by cideries and distilleries as well.
If the various events over the course of Green Hop Beer Fortnight have you frothing at the mouth for more (not the most alluring image I know but I couldn't resist the pun) then you will certainly be tempted by the Beer Festival at the Spa Valley Railway between 19th and 21st October. The Victorian Engine Shed in Tunbridge Wells will become a beer drinkers paradise with over 160 real ales and more than 25 Green Hop beers on offer. The festival is spread across the entire route of the railway including Eridge, Groombridge and High Rocks. The beer festival is organised by CAMRA and has been scheduled to coincide with the Autumn Diesel Gala. Trains and Beer what more could you want!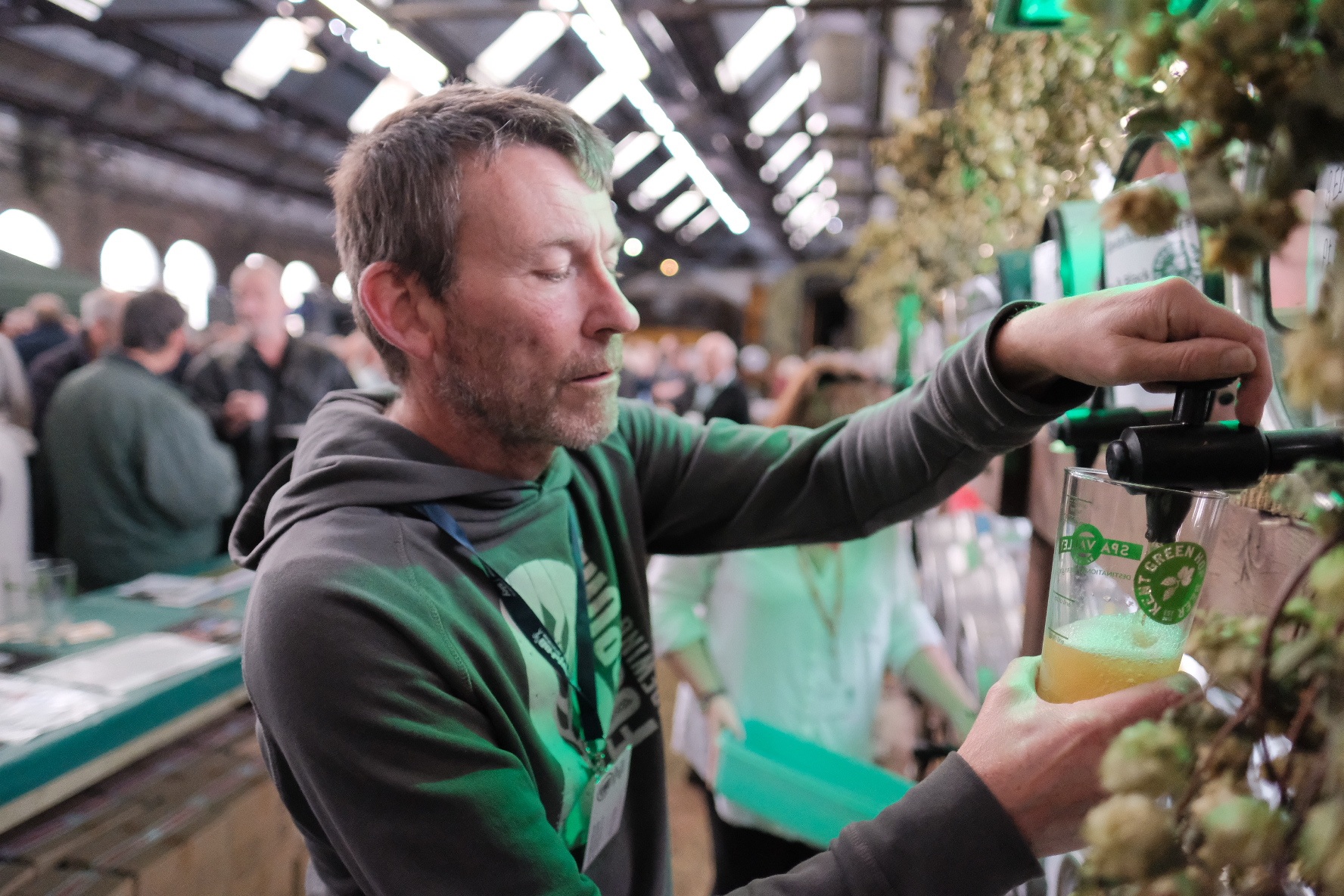 Kent breweries you are likely to encounter at these events include: Gadds The Ramsgate Brewery, Old Dairy Brewery from Tenterden, Ripple Steam near Dover, Mad Cat in Swale and Whitstable Brewery which confusingly is in Maidstone. Many of Kent's breweries offer tours which usually finish off with a bit of a tasting, as if that's the only reason you would go.
It would be amiss of me not to mention the Faversham Hop Festival within this piece. At the time of writing, the 2018 event has already been and gone, sorry. It will be back next year without a doubt. Faversham, home to Shepherd Neame, occupies a special place in Kent's hop growing and brewing heritage. At the start of September 40,000 residents and visitors come together to celebrate the harvest in the best way possible: with food, drink, music and dancing; not just Morris, other dancing as well, although Morris does usually shake a leg after he's had a couple.
We hope you are able to enjoy the last vestiges of summer at these events, and it goes without saying that we encourage you to please drink responsibly.