Visit Kent is delighted to introduce you to the South East Pass - a promotional pass that will enable visitors and residents to save money across many different family attractions, shops, restaurants (including hotel restaurants) and cinemas across the region. The pass is designed to encourage people to explore neighbouring counties and towns and drive visitor spend and domestic overnight stays.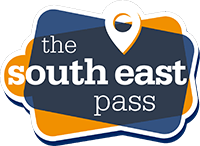 To find out how you and your business can join the South East Pass, please complete the form below.
By submitting this form, you agree to your details being passed on to the South East Pass team.
Error: An error has occured sending your contact details. Please contact us directly using the phone or email listed above.