Andrew Ashbee, Curator of Snodland Museum says …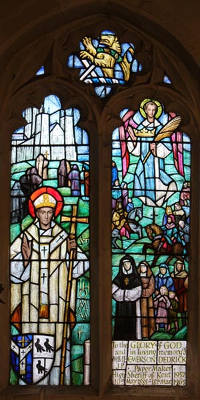 William Dedrick (d.1920) and Willie Emerson Dedrick (d.1963) were, in their turn, Managing Directors of the Paper Mill.  Both, too, served the church faithfully in many ways for many years.  Some of the valuable glass destroyed in the war was salvaged and re-instated through the kindness of WE Dedrick at a cost of £200.  This is now placed in the west windows of the aisles, both carrying the same inscription:
"Damaged by enemy action 1941 and restored 1949 in memory of William Dedrick (1857-1920) of the Paper Mill and of his grandson Richard Pearson killed in HMS Hasty off Malta, June 1942."
In 1966 Mrs. Doris Dedrick gave a beautiful window in memory of her husband.  Designed by Miss Moira Forsyth, ARCA, FMGP, it replaces the "Palmer window" which was destroyed.  The inscription reads:
"To the GLORY of GOD and in loving memory of WILLIE EMERSON DEDRICK J P , Paper Maker, High Sheriff of Kent, 1952. 10th May 1885 - 18th March 1963.''
The following description was provided when the window was dedicated:
"The Church of All Saints is an ancient foundation and stands on the old Pilgrim's Way.  The window has been designed to commemorate these pilgrimages to the shrine of St. Thomas a Becket at Canterbury.  The left light shows St. Thomas vested as Archbishop, with the Arms of the See of Canterbury impaled with his personal arms, three Cornish choughs.  At the head of the light is the Cathedral with pilgrims approaching.  The right hand light shows above, an angel holding the emblems of martyrdom, the crown and the palm, and beneath, a procession of pilgrims: in the foreground, at their head, is shown the sister of St. Thomas, who was abbess of Barking.  The Dedrick crest is shown in the top tracery.
"The glass of this window is of fine colour and quality, much of it a precious 'slab' glass no longer obtainable.  The old stonework of the window is irregular in shape and has necessitated careful handling."