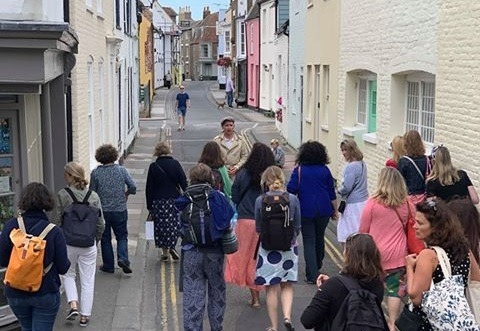 If you want to find out about Deal's amazing history in a fun, informative and entertaining way, then join George and Peter on a History Walking Tour along Deal seafront.
The History Project was created by two childhood friends, George Chittenden and Peter Fishlock. Growing up in the streets of the historic town of Deal in Kent, England, the pair became fascinated with the history of their town.
Both George and Pete feel privileged to have been born and raised in such a historical and interesting location.
George is an award-winning tour guide and novelist. Pete has a background in media production, social media marketing, and project management.
Tours: Saturdays and Sundays
Duration: 35 minutes or 60 minutes
Flexible (day, time and location) to accommodate groups - please enquire
Smugglers Trail (12pm and 3pm)
Join us on a journey into Deal's shady smuggling past when armed gangs ruled the night landing contraband on our beaches and avoiding the dreaded tax. Learn about the trade's rather innocent origins, it's rather violent heydey and it's eventual demise.
Deal History Tour (2pm)
Take a step back through time and discover some of the fascinating history surrounding Deal. This tour is a leisurely stroll around the town taking in some of the amazing architecture.
Castles on the Coast (1pm)
Discover why this country faced a threat of invasion in 1539 and why this area of coastline was one of the most vulnerable stretches anywhere on the South Coast of England.
The Story of Deal's Piers over the Years (11am - £Free)
How many piers have there been? Why were they needed? What happened to them? How long were they? And is the pier really the same length as the Titanic?
Look out for the yellow stand by Deal Pier (opposite Deal Beach Parlour)!
Entry Price
Free - £5
Group discounts available