The History of the Dutch Raid
In June 1667 a daring raid on the English navy took place on the River Medway. The battle changed the course of naval history so it surprising that so many people know so little about it.
The battle, sometimes known as the Battle of Medway, took place against a background of hostility between the English and Dutch. The two countries were embroiled in a war over trading routes and colonies.
In June 1667, the Dutch fleet, under the command of Lieutenant Admiral Michiel de Ruyter, carried out a daring raid on the British fleet as they were lying at anchor on the River Medway at Chatham. In the ensuing battle, defensive fire from Upnor Castle did not stop the Dutch fleet capturing two ships including the English flagship, the Royal Charles. It was taken to Amsterdam where its coat of arms remains on display at the city's Rijksmuseum today.
Other ships were set alight, engulfing the River Medway in flames and, to avoid the Dutch fleet capturing more English ships, the Royal Navy sank some of its own vessels. It was a huge victory for the Dutch fleet, although they withdrew before reaching Chatham Dockyard, almost certainly their primary objective.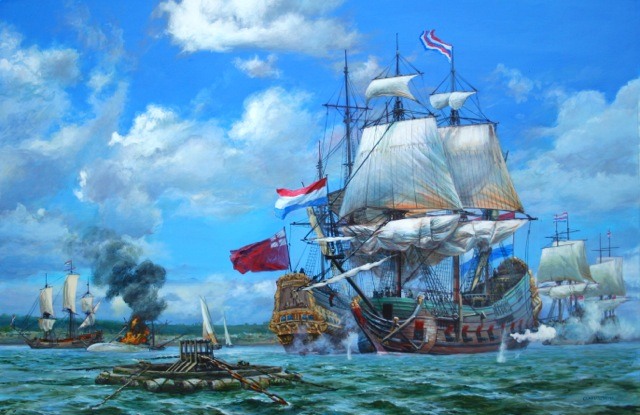 © Kevin Clarkson. These originals can be seen at The Guildhall Museum, Rochester
The defeat on the Medway was seen as humiliating. It sent shockwaves across England with many fearing that it was the start of an invasion or assault on London itself.
In fact, this defeat brought the second Anglo-Dutch War to a conclusion. It also led to the rebuilding of both the English Fleet and Chatham Dockyard during the late 17th century which set Britain on course to secure worldwide command of the oceans during the next century.
In 2017, 350 years after the Battle of Medway, the Royal Navy and Dutch Navy are working together to host commemorative anniversary events and it is hoped that the re-telling of the events of 1667 will ensure that this important chapter in history is not forgotten.
For more information , take a look at the dedicated Battle of Medway website or take a look at our round-up of Battle of Medway events.